NOW CONFIRMED TO WORK WITH VERSION: 1.9.12!
Below you will find the initial instructions for modifying the osTicket files and database. The rest of the Reports 6.0 MOD is available for purchase. For $35 you will receive version 6.x and any future revisions to version 6.x. For $50 or more you will be given access to all future releases.
When emailing in the payment please include what version of osTicket you will be using. There are different files for different versions of osTicket.
Thank you everyone and I look forward to your input into future releases!
Demo now online! I'll try to get some more data added to this as soon as I can.
http://reportsdemo.sudobash.net/scp
Username: demo_admin
Password: reportsDemo
Note regarding demo. The database for this will be restored every day so we don't get a bunch of crap loading up in it from anyway goofing around, etc. Also the staff table is restored every single minute, so don't bother making extra users, etc
Ok, so after being on the osTicket forum since July 2009 I've noticed that one big MOD that everyone wants and never fully gets is reporting. The following is my stab at it.
This MOD has been implemented and tested on 1.7ST through 1.9.12, please let me know if you run into any issues.
Should you have any questions or issues please email scott.m.rowley (at) gmail (dot) com, this is where I'm mostly likely to see the email immediately.

Requirements: MySQL 5
pChart (for use with emailed reports – included) requires the GD and FreeType PHP extensions.
All files and directories should be owned by the user the web server is running as (such as apache / www-data)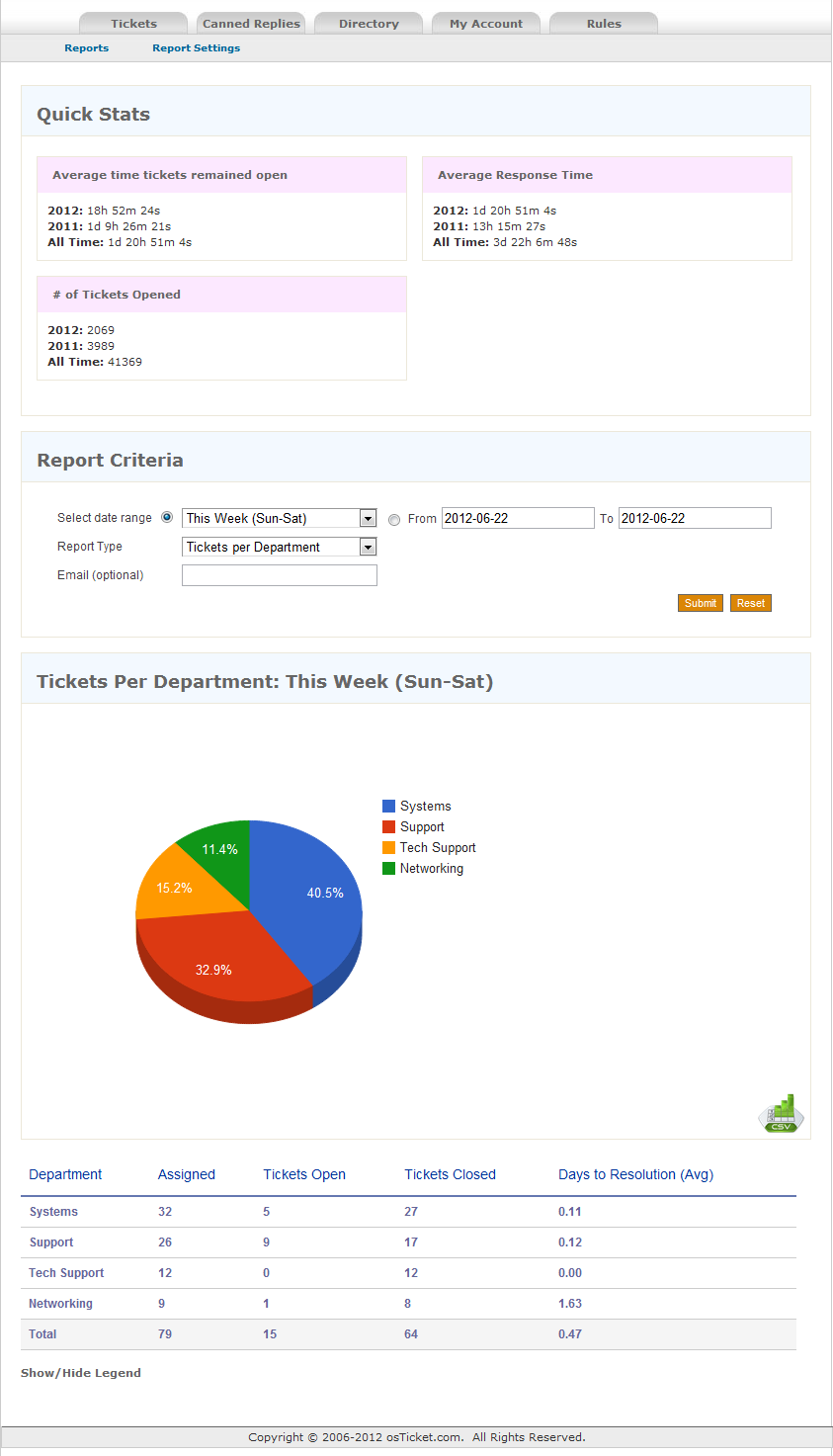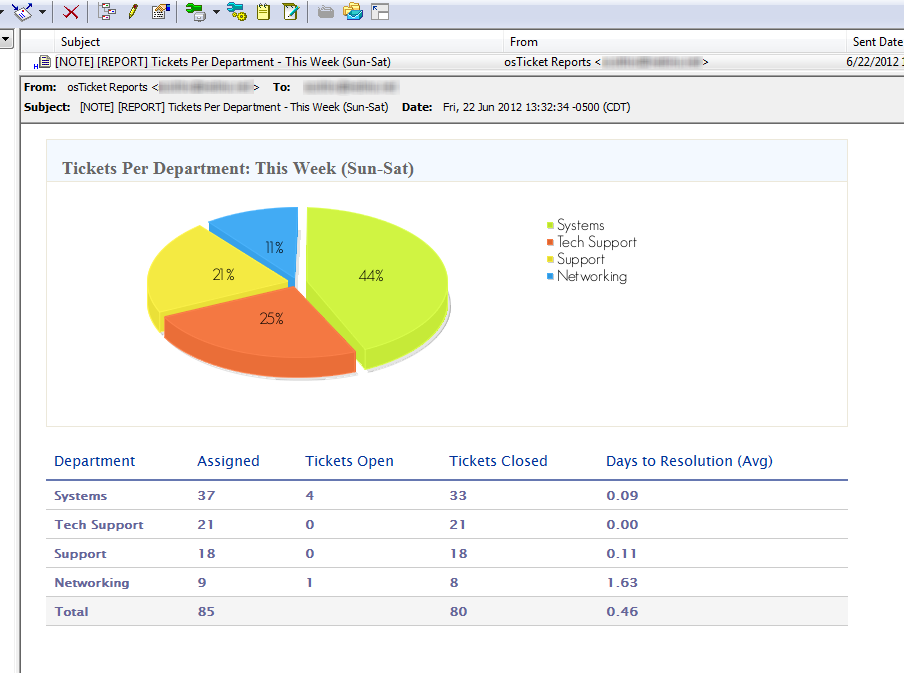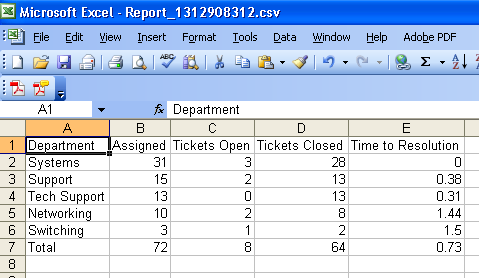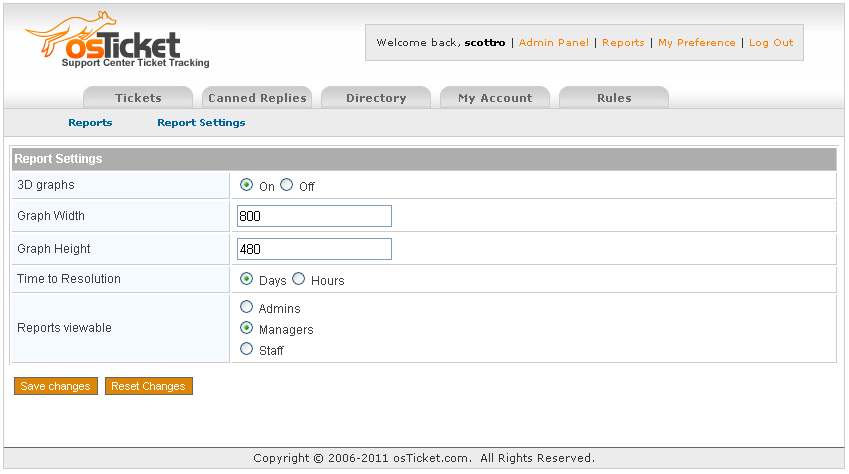 Please note that the header file is now included in the zip file, you will need to update the database information at the top of the file.
In order to use the "Report Settings" (admin) page then you'll need to add a new table to your database and then fill it with initial data, make sure and change the table prefix (ost_) if you are not using the default.

CREATE TABLE `ost_reports` (
`3d` TINYINT NOT NULL ,
`graphWidth` INT NOT NULL ,
`graphHeight` INT NOT NULL ,
`resolution` VARCHAR( 255 ) NOT NULL ,
`viewable` VARCHAR( 255 ) NOT NULL
) ENGINE = MYISAM ;

INSERT INTO `ost_reports` (`3d`, `graphWidth`, `graphHeight`, `resolution`, `viewable`) VALUES ('1', '400', '240', 'hours', 'admins');
Add the REPORTS_TABLE constant to
1.7
main.inc.php
below
define('GROUP_TABLE',TABLE_PREFIX.'groups');
add
define('REPORTS_TABLE',TABLE_PREFIX.'reports');
1.8
bootstrap.php
below
define('GROUP_TABLE',$prefix.'groups');
add
define('REPORTS_TABLE',$prefix.'reports');
Once you've sent payment you should be receiving instructions to download the zip file. Extract all files to the osTicket root directory and set all reports directories to 0755 and all reports files to 0644. Please also move the included file "include/staff/header.inc.php" to ROOT_INSTALL/include/staff/header.inc.php"
ToDo
Scheduled email reports
Average time to initial response.
Sorting by column title
Language Support
The reports MOD is being used all over the world! Here's a map of where Reports 6.x is being used today! (Note that this is only 6.x and not previous versions which would be a much MUCH larger map spread).

View Reports 6.0 in a larger map
Troubleshooting
Ensure your php.ini has short tags set to on
Check that your files and folders are accessible to the user running your webserver (such as www-data)
For researching issues it's best to start looking in the error_log, this should give additional information as to the root cause of any issue being encountered.